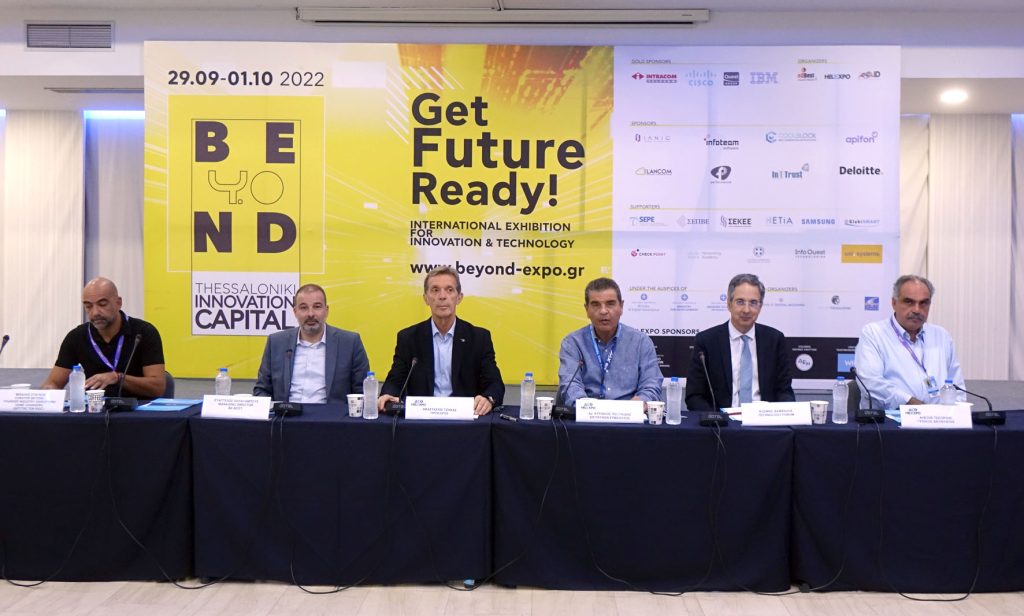 The 2nd 'Beyond' International Innovation and Technology Expo is laying the groundwork for the future this year at the Thessaloniki International Exhibition Centre, where the heart of these new technologies will be beating from 29 September to 1 October. With the participation of 300 enterprises, 100 of which are startups, with foreign (direct and indirect) participations from 30 countries, over 5000 B2B and B2G meetings, and "Get Future Ready" as the main message, Beyond is back again this year, ready to make its mark on the international tech expo scene. The expo is being co-organised by TIF-Helexpo, Be-Best, and Industry Disruptors Game Changers (IDGC).
This year's Beyond, more international and qualitatively enhanced than last year, will provide a platform for companies from all over the world to present innovative products and their services, as well as providing them with the opportunity to make important deals with visitors from Greece and abroad, while it will also highlight Greece's tech ecosystem.
Besides the dynamic entrepreneurial presence from Greece and abroad, Beyond participants include Regions, ministries, agencies, local government, and the university and research community. More specifically, attendees will include the Regions of Central Macedonia, Attica, Western Greece, Crete, and Central Greece, the ministries of Digital Governance, Development and Investments, Education, and Finance, while there will be increased involvement of the university and research community, with the participation of the largest universities and most important research centres in Greece. At the same time, the expo will also welcome clusters from the Balkans.
The Beyond Summit in Pavilion 12 will be the event flagship, with important speakers from Greece and abroad. The Beyond Stage will also host events by KEDE-Central Union of Municipalities of Greece (Smart Cities) and the Region of Central Macedonia, while the Secretaries General of all of Greece's municipalities ('KLEISTHENIS' Panhellenic Union of General Secretaries of Local Government) will all be at Beyond for the presentation of the smart and digital future for cities. The 9th Technology Forum stands out among the many side events with internationally distinguished speakers, while the programme also includes SAFE THESSALONIKI, EIT FOOD, and METALOGUES.
Beyond sponsors include some of the most important IT and high-tech companies in Greece and internationally. More specifically, Cisco, Info Quest Technologies, Intracom Telecom, and IBM are Gold Sponsors, Ianic, Lancom, Performance, InTrust, Infoteam, Apifon, Deloitte, and Cool Block are Sponsors, and the Labour Inspectorate (SEPE), the Association of Information Technology Companies of Northern Greece (SEPVE), the Hellenic Association of Innovative Applications Companies (SEKEE), the Hellenic Emerging Technologies Industry Association – HETiA, the Region of Attica, Samsung, Checkpoint, Globismart, Infoquest, and Uni Systems are supporters.
The Press Conference
TIF-Helexpo President, Mr Tasos Tzikas, referred to the aim of establishing Beyond as a major international new tech expo for the Balkans, Southeastern Europe, and the Eastern Mediterranean, during the Press Conference today in view of tomorrow's opening of the event. He also stressed that the tech ecosystem in Greece, and in Thessaloniki in particular, is proving to be particularly dynamic, while he explained that the wager for this year's event may have been won, but a lot of effort is still required to materialise the initial vision.
TIF-Helexpo CEO Kyriakos Pozrikidis stated that "we are following the future", noting that Beyond existed as a dream for five years, but following last year's event, this second event will firmly establish it as a reality. In fact, he pointed out that 5000 B2B and B2G meetings are expected to take place during the expo, along with a plethora of events at the 5 stages available.
Be-Best Managing Director, Mr Evangelos Charalambous, characterised Beyond as a unique expo that will place Thessaloniki at the focus of international tech developments, while he noted that some of the world's largest tech companies will be here. He also expressed his expectation for the establishment of Beyond as an institution for the new tech world.
The founder of Industry Disruptors Game Changers Michalis Stangos stressed that Beyond's goal is to become a platform for sector developments, while he noted that the content and substance of the expo are being enhanced. He also mentioned that last year there were 60 speakers at Beyond, while this year there will be 150, and that of the 100 startups at this year's event, 20 are international.
Mr Kosmas Vamvalis, spokesperson for the 9th Technology Forum, referred to the world class speakers at the Forum being organised as part of Beyond's side events this year, while he thanked TIF-Helexpo for the opportunity with which it is providing organisers-agencies to further develop the Forum.
"We are laying the groundwork for an expo that will match the Barcelona tech expo, when it is held at the new Exhibition Centre", noted TIF-Helexpo general director, Mr Alexis Tsaxirlis. He also announced that a third Beyond has been scheduled for May.
The region of Southeastern Europe needs a premium expo that will concentrate all sector companies, stressed the director of Intracom Telecom, Mr Nikolaos Velentzas, who also mentioned that Beyond is evolving into an innovation forum that no company could miss.
"We are here to support your vision", stressed Mr Annita Patargia from Quest group, noting that technology and innovation are part of the group's DNA. Uni Systems spokesperson, Ms Vicky Boufi, stated that Beyond has a promising future because it is an inspired expo.
The opening hours of Beyond are: Thursday and Friday 10:00 to 20:00 and Saturday 10:00 to 18:00.